VICE MAYOR FELICIA BRUNSON HONORED AT FLORIDA STATE UNIVERSITY HOMECOMING
Brunson received the Outstanding Alumni Award for her years of service to the community
Tallahassee, FL – November 24, 2013 – Vice Mayor Felicia Brunson received  the Outstanding Alumni Award at The Florida State University (FSU) Black Alumni Association's Reunion that was held on Nov. 14-17, 2013 in Tallahassee, FL. The event entitled, "A Legendary Spirit: Celebrating 30 Years of the Black Alumni Association & 45 Years of the Black Student Union", honored FSU Black alumni, faculty/administrators, and students.
"I am humbled and honored to have been selected as the 2013 outstanding black alumni from the best university in the country -Florida State.  I immensely enjoyed my educational experience at FSU and the opportunities there helped shape me to become the servant I am today." –Felicia Brunson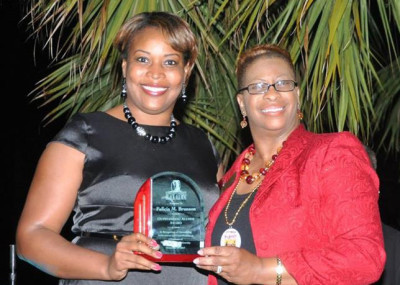 The Outstanding Alumni Award is presented to alumni who have made significant achievements and contributions to their communities, professions or countries since their graduation from FSU.  Awardees may have excelled in their respective careers, given immensely of themselves to their communities, or have been great role models for other alumni and students to emulate.
"We are very proud of and excited for the award recipients," said Connie E. Jenkins Pye, FSU BAA National President. "These awards represent the highest honor bestowed upon FSU Black alumni, faculty/administrators, and students by the FSU Black Alumni Association."
As Vice Mayor Brunson, who is a candidate for a Broward County School Board seat, currently holds membership with:
Leadership Florida
Broward Community and Family Health Center Board Vice Chair
Founder of One Community, One Cause – Walk for Cures event
Founder of Visions of Images, Inc. (a non profit that services senior citizens and a female mentoring program)

Women Elected to Municipal Government (past president)
The goal of the event is to unify Black alumni from all decades, Greek organizations, current students and other interest groups. The FSU Black Alumni Association consistently brings alumni together to socialize, network, and link the accomplishments of the past with a direct focus on enhancing the future for all at FSU.
Brunson firmly believes "service is the price you pay for the God given space you occupy"